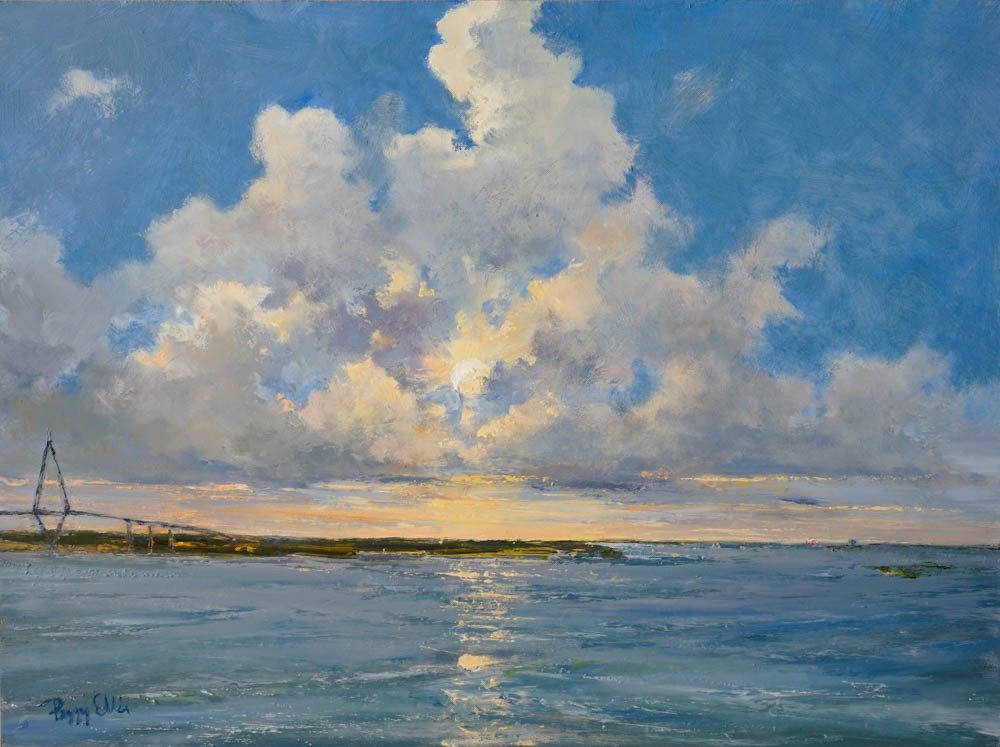 CREATING OIL PAINTINGS
THAT GLOW
with Guest Instructor Peggy Ellis

WHEN:
Wednesday to Friday
(9am to 4pm)
October 18, 19, 20, 2023
WHERE:
Art League Academy
(106 Cordillo Parkway, Hilton Head Island, SC)
Creating Oil Paintings that Glow. Discover how to channel passion in to your paintings with the use of both brushes and palette knives. You'll learn how to trust your creative instincts, allowing the process to guide you. Focus will be on adding strong contrasting values to make your paintings "glow" and the importance of a powerful focal point. We will also touch on adding complementary colors throughout. Subjects to explore: sunrise, moonlight, seascapes and marsh, including how to paint simple figures or wildlife for added interest.

NOTE: Materials kits are available on request. Please email Academy@artleaguehhi.org at least 2-Weeks in advance of the workshop.


SKILL LEVEL: This class is a great choice for beginner students, intermediate students and advanced students. The instructor limits size and formats the class so that a mixed skill level environment will ensure students get the most out of the workshop.


REFUND POLICY:
Ticket purchases to Art League of Hilton Head events are final. Credits or Refunds will not be given for missed or classes/workshops.

If a class or workshop is canceled by Art League of Hilton Head a full refund will be given.

Materials Included:
No materials are included in this class. A List of materials you should bring is listed below.
Requirements:
SUPPLIES LIST:

NOTE: The following list is JUST a suggestion. The instructor can supplement a missing supply

3 Studio Canvas and/or wood panels
(size 16" x 20" OR you choice)

Suggested Palette Knives:
Dick Blick Size 5, 27, 50 & 96

Brushes:
1 inch flat
#8 flat
#6 bright
#2 round
2 inch cheap bristle brush
Any additional you want to bring

Oil Paint
1. Yellow Ochre
2. Raw Sienna
3. Cadmium Yellow
4. Burnt Umber
5. Cadmium Red
6. Alizarin Crimson
7. Cobalt Blue
8. Ultramarine Blue
9. Cerulean Blue
10. Sap Green
11. Gamblin Portland Warm Gray
12. Gamblin Portland Cool Gray
13. Permalba White
14. Gamblin Solvent Free Gel
15. Odorless Turpenoid

NOTE: These are all suggestions, there is no need to purchase every color.

Sketch Pad

#2 and #7 pencils

Lyra graphite crayon 6B

Gum Eraser

Viva Paper Towels

Smock

Personal Photos


(if you choose, in addition to those provided by the instructor)



Thin nitrile gloves

Drinks, Snacks, Lunch and whatever else you need throughout the day. Art League Academy has a fridge, freezer, microwave, toaster and toaster oven.

QUESTIONS:
Email
Academy@artleaguehhi.org
Instructor:
Peggy Ellis
Instructor Bio:

PEGGY ELLIS, a prolific artist like her late father, Ray Ellis, now makes her home in Charleston, SC. Her studio overlooks the magnificent downtown harbor, which has become a definable part of her latest art series, capturing the dramatic break of day and the beautiful rising of the moon at night.

Well respected and collected nationwide, Peggy is represented by Reinert Fine Art, 179 King Street, Charleston. She is also a passionate teacher with a loyal following of students; eager to share her love of oil and watercolor painting alike. You can visit Peggy's Website, PeggyEllisArt.com by clicking HERE


TESTIMONIALS:

"I have taken both oil and watercolor classes from Peggy in the last several years. She is a knowledgeable, enthusiastic and very encouraging instructor. She presents challenging and varied subject matter that is interesting and provides the opportunity to improve painting skills. Peggy works tirelessly during a class, and provides clear and helpful feedback to her students" Marilynn G.

"Peggy is a blast to work with. I always recommend her as a teacher to students who say "I am too scared to paint." She is such a positive force in the workshop, truly the perfect teacher for people that don't know where to start. Peggy continues to inspire her students with her passion for the Low Country landscape and encouraging instructions. Whether you are "too scared" to start or an accomplished artist looking to evolve your practice, I highly recommend Peggy." Dylan Sell, Arts Coordinator, Palmetto Bluff Conservancy

"Peggy recently conducted an oil painting workshop for our Art League. She also presented a program for which we had one of the largest number of people ever to attend. Many of those afterward took her workshop. She taught us to use the palette knife and we all were very pleased with our efforts. Peggy has teh ability to put her students at ease and her manner is very encouraging to artists of all skill levels. She is very excited about her art and shares her knowledge and experience readily. I hope to take another class with her." Jean K., Programs Coordinator