Instructor Bio: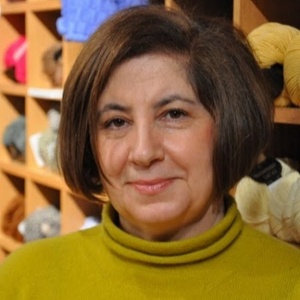 "When I knit, there's nothing I love more than a challenge," says BERTA KARAPETYAN. Karapetyan has spent the past decade designing high-fashion knitwear collections for Karabella and working as a technical knitwear developer for the best fashion houses in New York including Donna Karan, Calvin Klein, Ralph Lauren, Club Monaco and others. She believes that as a designer, her strength has always been her ability to master difficult techniques and when she has been approached by design houses in the past, it was usually because the work involved something special or complicated.

Karapetyan grew up in Moscow, Russia, where she began knitting at the young age of twelve, and she hasn't stopped since. Sharing the memory of the first sweater she ever knitted, Berta recalls it being T-shaped with a simple lace pattern. She was thrilled at how fascinated her family was with her creation, however, she was disappointed with the way that the sweater fit, so she started researching the best ways to construct a sweater, and soon found that calculating every piece, instead of guessing, was the key.

In 1976 Berta graduated from the Moscow Finance Academy with a master's degree in finance. Berta spent time working for the Moscow City Department of Finance, however, after getting married, she never used her finance degree again, instead, Karapetyan's passion for knitting and crocheting took over, and she soon realized how much she loved sharing this gift with other people, so she began teaching knitting and crocheting at a woman's club in Moscow. Classes were a tremendous success.

Karapetyan and her family moved to the United States in the late 1980s, where Berta discovered a whole new world of styles and shapes. She also was keen on how she could apply her talents to the fashion industry, however, in 1995, she purchased School Products, the largest yarn store in Manhattan and a favorite among designers and fiber artists. It is this moment that Berta considers her entrance into the New York Fashion Scene. After purchasing School Products, Berta was able to quickly translate her technical skills into high-fashion knitwear and strongly developed fashion sensibility that can be seen in the patterns she has created.

Berta's goal in all of her designs is to marry texture and yarn, color and shape, while staying conscious of the actual people who will be wearing her knitwear. Berta strongly believes that a garment should flatter a person, so she tries hard to ensure her designs do not overwhelm her client's bodies by keeping them tasteful, but with a sense of adventure.

Since her adolescence, Karapetyan has written hundreds of patterns and has developed a style of pattern writing that many knitters find easily approachable. She has received an immense amount of feedback over the years from customers at her stores and has learned the importance of ensuring that her patterns are reliable and that they gently guide knitters through skills they may be trying out for the first time. All of her patterns have gone through meticulous testing and editing to ensure that even new knitters can proceed with confidence.

"I take great satisfaction in knowing that I can share the wealth of my knowledge, challenges and all, with you and hope that you'll enjoy the experience of knitting pieces, but above all, wearing them!" says Karapetyan.