Requirements:
PLEASE BRING
SUPPORTS:
4 or 5 supports. These can be a combination of board, cradled board, Arches OIL paper, MultiMedia ArtBoard, or canvas. I personally do not use canvas, but ok to use. Also, OK to use watercolor or mixed media paper, BUT MUST BE GESSOED PRIOR TO CLASS. If your cradled board or board is not already primed, put 2 layers of gesso down PRIOR to class. When I gesso, I use colored gesso. Also, if using cradled panels, remember to TAPE your edges.
OIL PAINT:
Please buy the best you can afford. Gamblin is a good middle of the road choice. This is what I use. Bring the colors that you enjoy, PLUS a warm and a cool of the primaries, such as Alizarin Crimson/Cad Red, Lemon Yellow/Hansa Yellow, Thalo Blue/Ultramarine Blue. PLUS black and white. You will use a lot of white, so purchase the large tube. You may want to bring an orange, green or purple, but these can be mixed. Bring any other colors that you like to use.
Roll of Freezer Paper
(Made by Reynolds)
Roll of Clear Wrap
(Such as Saran Wrap)
Roll of Wax Paper

Pad of Newsprint
(Can bring a stack of Newspaper instead)
Rubber Gloves

Gamblin Galkyd Gel
(gel, OR, the liquid form)
Solvent
(I use Gamblin Gamsol, an odorless solvent)
Please DO NOT use Turpentine
Plastic Spray Bottle




(For your Solvent)





Cold Wax




(One Pint, Gamblin or Dorlands. I will have for purchase)



Roll of Paper Towels

A Few Cheap Brushes


(Don't use your good brushes)



Masking Tape

Soft Brayer


(I will have for sale, what I use is Hobby Lobby and Squeegee Press and I sell at cost)





Squeegee




(Again, I will have available and will sell at my cost, however, I recommend the Messermeister Silicone Bowl Scraper from Amazon)





Painting Knives




(I will have some of these for sale too. I use Dick Blick brand (RGM) numbers 61, 81 and 83.)





Chunky Charcoal




(Or powdered)




OPTIONAL SUPPLIES:

Oil Sticks

Texture Items to Press into Wax


(Such as Stencils, Stamps, Bubble Wrap, Mark Making Tools, etc)



Collage Materials

Powdered Pigment


ONE THING TO NOTE: For the items Linda sells, she does not make a profit, she sells them at the cost to her. She brings them along because they are items that she uses that usually cannot be purchased locally. Cold-wax is a messy medium, so be sure to wear old clothes and an apron (Available for purchase for $25). Students may wish to bring along a piece of canvas or tarp to stand on in case some of your paint falls on the floor.


Any further questions in regards to materials, please contact Linda at (717)623-2333
QUESTIONS?
Please Email:
Academy@artleaguehhi.org.

Instructor Bio: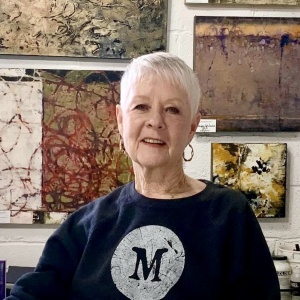 "Painting is my Passion" - Linda Benton McCloskey

LINDA BENTON MCCLOSKEY enjoys painting in many mediums, including water-media (acrylic and watercolor) encaustic, cold wax, and pastels. McCloskey has several styles, since she enjoys all types of art: abstract, non-objective and impressionistic landscapes. Linda's great uncle was Thomas Hart Benton, (1889-1975) who can be found in many large museums with his murals and paintings. He was also know for mentoring Jackson Pollack.

Linda is a professional fine artist and also a teacher. She teaches both online and in person. You can also find her on YouTube and Patreon.com. Her works have been purchased by individual collectors, commercial businesses, hospitals, universities and museums. Linda's studio and gallery are located at The Millworks in Harrisburg, PA, USA.